No need to get in touch with your feminine side. Belly dancing is a total body workout with an emphasis on endurance.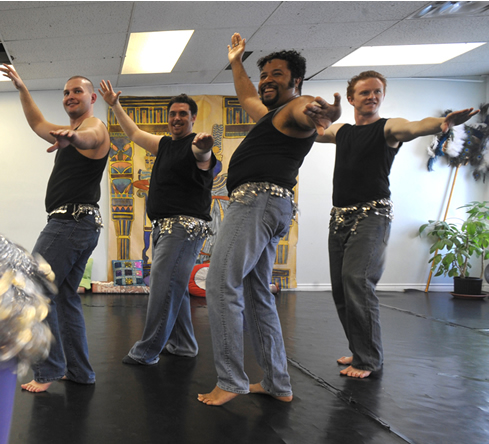 Stay-at-home dads, male nurses. What next, male belly dancers? Why the hell not?
Feeling and Looking Younger

Sharif and Ruise's dance advice for men

Try styles such as Moroccan and Debke, which are fast-paced and incorporate more stomping and jumping.
Adapt the movements and costuming to make it more masculine.
Midlife Athletes
Belly dance is a low-impact form of exercise that works your body from head to toe, and makes women and men look and feel sexy. Can't say that about football or baseball.
I'll admit, I wasn't always this open-minded about midriff sporting men shaking it. Then my gym posted signs advertising belly dance classes. I, and many a fellow gym-goer, awaited the arrival of a voluptuously bellied instructor to lead classes in undulations and the subtleties of serpentine movements. We got just that, and a little more; the belly belonged to 45-year old Phillip Ruise.
While male belly dance may be a novelty in this country, historically speaking it's old news. "All males dance in the Middle East and always have and always will," explains Yousry Sharif, director of the Egyptian Academy of Oriental Dance in New York City. But it's not called belly dance, corrects Sharif, it's called raks sharqi (oriental dance).
Whatever you call it, the benefits of the dance are undeniable. "It makes you feel like you've worked out your ass," offers Ruise. The great glut workout is a result of the dance being performed with the pelvis tucked under. Belly dance also works the quads and arms with a vengeance, and requires tremendous endurance.
But because Americans typically associate belly dancing with the feminine form, many men believe that they are physically incapable of performing the movements. Not so, says Sharif: "Dancing is a great exercise and release of energy for both sexes." It's also interpretative, so men can make the movements more masculine, more personalized, notes Ruise.
That said, some belly dance is more suited to the male form than others. "Taktib, Nubian, Debke and other folkloric forms fit the male body better as they are more macho and really men's dances," asserts Sharif.
So, if you're bored with the treadmill, stair climber, Nordic Track thing, consider this: The only prerequisite for belly dance, says Ruise, is that "you have to be interested in music and movement and taking care of your body."
Now that you have the facts, only fear of humiliation can stop you.
Related Items
Why we gain weight as we age
Shift weight loss resolutions into high gear
Self-help advice on body weight
6% Solutions to Weight Loss
Heavy Meals Weigh on Your Heart