Curious about women and courage, everyday courage or how to apply courageous leadership--this is the blog for you. No sensational stories, heroism or drama, just the understanding of how to apply courage at work or in your personal life. There is a direct correlation between your success quotient and your courage quotient. What would you do right now if you had "unlimited courage?" Do you have courage?
Portrait in Courage: First Woman to Run for President of the U.S.
Can you name the first woman to run for president of the United States?
Very few people can, but this nineteenth-century woman embodied perseverance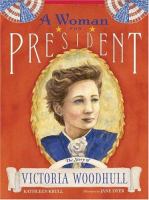 demonstrated by the feminine behaviors of courage. By giving herself permission to be courageous, she journeyed through life as a spiritual seeker, individualist and social activist. Misunderstood, ridiculed and rejected, Victoria Claflin Woodhull utilized her talents to become "the first woman stockbroker on Wall Street, the first woman to produce her own newspaper … a fearless lobbyist, businesswoman, writer and investor who advocated for women's equal status in the workplace, political arena, church and family." Regardless of society's criticisms, Victoria rejected mediocrity and ignored the limiting preconceptions that informed her shortsighted critics. She fought for change on virtually every important social, political and economic issue of her time. You can also tap into that same courageous spirit for the perseverance you need to overcome every obstacle in the workplace.
Receptive to new views and concepts such as birth control and equal rights for women, Victoria "saw no reason why she or other gifted people should be held back by society's rules and strictures. Clearly, these rules were in place to keep one group of people in a more powerful position than others. She believed in a society based on talent and ability—not sex and class" writes Jacqueline McLean in Notable Americans. Working with her sister as a spiritualist, "Victoria could earn a living in a field that was one of the few to give women a voice—because the voice was not her own," wrote Mary Gabriel in Notorious Victoria: The Life of Victoria Woodhull.
Commodore Cornelius Vanderbilt recognized the sisters' gifts and became their business mentor in the stock market. In 1870, he helped the two sisters establish the first women-owned stock brokerage on Wall Street. Challenging Victorian hypocrisies was not an easy mission, but Victoria never succumbed to apathy. Recognizing the power of the media, she bought a newspaper that became her vehicle for exposing hypocrisies, injustices, stock swindles, insurance frauds, women's issues and human rights. For Victoria, hypocrisy ran rampant through society and represented a key leadership issue. She delivered an honest, insightful message for a better life, but a patriarchal society found it too threatening.
During the women's suffrage movement, many movers and shakers sought financial, religious or political reform. But when Victoria attempted to broaden the scope of topics such as education for daughters at the National Woman's Suffrage Association forum, she was ostracized by the likes of Susan B. Anthony. In Woman's Inhumanity to Woman Phyllis Chesler writes, "Most women are emotionally needy and are therefore emotionally greedy. Like girls, women remain reluctant to stop a group from scapegoating or excluding an individual woman because they are afraid the group might turn on them next." Scandalous headlines about Victoria rarely contained more than a hint of truth. Nonetheless, while other women tiptoed towards equal rights, Victoria's courage enabled her to storm the gates of inequality.
Even after her setbacks, Victoria refused to fade into the background. She soon headed a new group of women activists who believed in equality for all people; and in 1872, at thirty-two, she became the first woman ever to run for the U.S. presidency as the candidate of the Equal Rights Party. Victoria had funded the cause of women's suffrage, but when the century's worst recession set in, she found herself broke. Friends turned against her, and she was repeatedly denied residence. Publicly ostracized and slandered, Victoria also faced betrayal at home when she learned that her husband had taken a mistress.
Victoria, as always, persevered and received an unexpected blessing following the death of her longtime friend, Cornelius Vanderbilt. He died the richest man in the country, and left most of his inheritance to his son William. The other siblings sued, claiming that their father was not in his right mind. William decided Victoria and her sister were a liability to his case and offered the sisters money to leave the country. So in 1877, Victoria, her two children, her sister and her mother settled outside London, where Victoria continued to live her convictions away from the public spotlight. Before she died at the age of eighty-eight, President Wilson signed the bill granting voting privileges to women, and Congress voted in favor of the 19th Amendment. By giving herself permission to claim her courage, Victoria conquered obstacles on a scale that most of us can hardly imagine.
As Victoria experienced, confronting obstacles can result in a smeared reputation. Still today, long after her death, Victoria's life was "a little too flamboyant" for "herstory" to be a part of mainstream history. Mary Gabriel continues, "She was written out of history [and] censored by historians of the women's movement.… Victoria was arguably the boldest voice for women's rights in the nineteenth century, and she was taken very seriously by her contemporaries and by the media, in spite of her unconventional lifestyle." Victoria never allowed herself to get stuck, no matter how large or seemingly immovable the obstacle.
Are you tired of being stuck? Are you willing to fulfill your destiny? Are you willing to give yourself permission to be courageous? By giving yourself permission, you will persevere by allowing yourself to uncover and recognize your innate courage; and, like Victoria Woodhull, you empower yourself to overcome inertia and initiate positive change in your life.
Sandra Ford Walston is known as The Courage Expertand innovator of StuckThinking™. Featured on the speaker circuit as witty, provocative, concrete and insightful, she has sparked positive change in the lives of thousands of leaders each year. She found that there is a direct correlation between your success quotient and your courage quotient.
She is the internationally published author of bestseller COURAGE: The Heart and Spirit of Every Woman, the follow-up book to COURAGE, The COURAGE Difference at Work: A Unique Success Guide for Women (formerlySTUCK) and FACE IT! 12 Courageous Actions Bring Success at Work and Beyond. All three books are on based 20 years of original courage research. She is certified in the Enneagram and MBTI® and she is a Newfield Network coach. Please visitwww.sandrawalston.com.
Watch this YouTube:Courageous Leadership
Follow me on Twitter@courageexpert and Facebook
© Sandra Ford Walston, The Courage Expert
All Rights Reserved