Life coaches and experts blog and share their wisdom on how to live a happy, fulfilled life. They write about self management and parenting advice, career and how to succeed articles as well as answer questions from you about how to best navigate your life.
Your Health is Your Choice
"Every day, each of us makes a multitude of choices that will impact the quality of our lives. Some of these choices are minor and will only affect the next few minutes, hours or days, while others will completely change the direction of our lives.
Some choices are easy to make, some are more difficult. Some will lead us straight to success, while others will bring us face-to–face with failure. …But what's imperative for each of us to know is that, no matter how large or small, easy or difficult, each choice that we make, individually or collectively, alters the direction of our lives." Debbie For, The Right Questions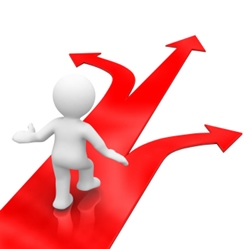 The choices we make right now about how we spend our money or if we spend our money, what we eat, if we exercise or don't, will impact us one way or the other. And it might not be today, but the choices we make or choose not to make will impact our lives someday.
Every day , I evaluate patients in my physical therapy practice and see people in their 50's or 60's that are beginning to have physical problems. A lot of these ailments that are not from accidents, are from choices made a long time ago but are only now showing up. For instance , the person that comes in very overweight and has pain in their back or knees, made choices a long time ago about their diet . That choice had an effect on his/her joints only it took awhile for the outcome of that choice to manifest itself.
Another example might be the person who works long hours in front of a computer , sedentary and forward bent. Hours and hours of this posture will create havoc on the body in the future. Whether it be your neck, your low back, or your hands.
Making your health a priority and wanting to be in the best shape that you can be starts with decisions that you make right now. The choices you make in this New Year about your health will build and build and can lead to a healthy and enjoyable retirement 10 to 20 years from now!
--- Nancy Whelan, PT , is the owner of the West Palm Beach Physical Therapy Center . Physical therapists are licensed professionals qualified to treat a variety of conditions such as arthritis, auto and sports related injuries, fractures and joint replacements, back pain, muscle sprains/strains and repetitive use injuries as well as postural problems that may cause neck, back and arm pain